I've never been much of a shoe person. Don't get me wrong, I like shoes. But I'm not easily swayed by style or what I see in the stores. I usually envision a pair of shoes that I want -- a particular style or idea -- and then spend months shopping until I find them. So my shoe collection is pretty small.
While Spitey was here (and yes, thanks for asking, we had a great time -- it was so nice to have such a good friend here. I really needed it and feel much refreshed from his visit), we were looking at boots online. He's worn a hole in the bottom of his and needs a new pair. This boot shopping was a dangerous and stupid thing for me to do. I've spent the past few days since he left looking at boots online. You'll remember
how much I love my boots
. They are doing well -- they need to be resoled pretty badly, but they are wearing nicely and I love them. The problem is that they have rubber soles. I loved this when I bought them -- makes them better for winter wear. I've gone hiking in them. They seem more durable. But they aren't the world's dressiest boots (remember, I wear boots all the time) and rubber soles are
terrible
for dancing. At these competitions, you aren't allowed to wear taps, so I dance in my boots. But leather soles are really a necessity for flatfooting and I don't own any. Thus, the boot search. My birthday is on Tuesday. I thought maybe, just
maybe

,
I could justify the purchase (still working on that). That is, until I saw these boots: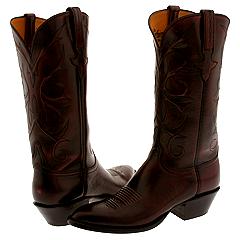 I am absolutely
in love
with these boots. I
need
them. Aren't they the most perfect thing you've ever seen?
All other boots pale in comparison. They are beauty itself. Unfortunately, they are also $475. I have never spent this much on anything except for rent, my car, and my computer. So alas, they will not be mine. But, oh! A girl can dream...